Wednesday, Oct 26, 2016
Financial Planning Standards Board Starts Global Conversation on Implications of Fintech, Automated Advice for Financial Planning
FPSB Report Presents Research Findings from Global Community on Implications
and Opportunities of Fintech for Consumers and Providers of Financial Planning Advice
AMSTERDAM 12 OCTOBER 2016 Financial Planning Standards Board Ltd.(FPSB), the global standards-setting body for financial planning and owner of the international CERTIFIED FINANCIAL PLANNER certification program outside the United States, released a global report onFintech and the Future of Financial Planningat its semi-annual meeting in Amsterdam today. During a technology strategy session featuring the leadership of Holland Fintech, IC3D, Figlo and fi360, FPSB presented the findings of its report to start a global conversation around the implications of fintech and automated advice for the delivery of holistic, client-centric financial planning advice.
FPSB developed itsFintech and the Future of Financial Planningreport based on research findings and other insights from nearly 1,700 survey responses from CFP professionals in 29 territories around the world, as well as from FPSB member organizations in 26 territories. Through several surveys, FPSB invited its members and CFP professionals to comment on: factors driving demand for fintech tools; which parts of the financial planning process could be automated; which consumers would be best suited to use fintech tools; what practitioners expectations are for fintech innovation in the near future; and what roles regulators and the profession should play in overseeing the use of fintech tools by practitioners.
When we started researching fintech in 2015, many CFP professionals saw automated advice tools as both a threat and an opportunity, said FPSB CEO Noel Maye. A year later, financial planners are considering fintech to be a complement to their businesses. However, as the use of fintech tools grows, planners will need to clearly differentiate the value they provide over fully automated advice tools, so consumers understand what theyre getting from the automated tools and why lifes better when working with a CFP professional, he added.
Maye said FPSB is using its research to present a set of considerations for financial planning professional bodies and financial planners to develop positions and approaches to address fintech and the future of financial planning. FPSB is encouraging theglobal financial planning community to discuss the findings of this report with stakeholders, and explore the implications that automated advice and fintech will have for the consumers and providers of financial planning advice globally.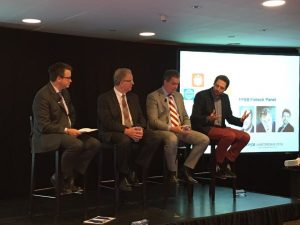 FPSBs goal is to encourage a global conversation within the financial planning community to ensure that, regardless of technological advances in, and automation of, advice models, consumers will continue to have access to financial advice that is in their best interests from humans (or technology) competent to provide that advice in an ethical manner, said Maye.
FPSB kicked off its discussion of fintech at its strategic session today with a keynote address by Don Ginsel, Founder and CEO ofHolland FinTech, followed by a panel discussion featuring perspectives from Loren Roosendaal, Founder and CEO ofIC3DMedia, Peter Dussel, CEO ofFiglo, and Blaine Aikin, CFP, CFA, AIFA, executive chairman offi360. The FPSB meeting in Amsterdam continues until Friday.
About FPSB
FPSB manages, develops and operates certification, education and related programs for financial planning organizations to benefit the global community by establishing, upholding and promoting worldwide professional standards in financial planning. FPSB demonstrates its commitment to excellence with the marks of professional distinction CFP, CERTIFIED FINANCIAL PLANNER and CFP Logo mark which it owns outside the United States. FPSB has a nonprofit member organization in the following 26 territories: Australia, Austria, Brazil, Canada, Chinese Taipei, Colombia, France, Germany, Hong Kong, India, Indonesia, Ireland, Israel, Japan, Malaysia, New Zealand, the Netherlands, the Peoples Republic of China, the Republic of Korea, Singapore, South Africa, Switzerland, Thailand, Turkey, the United Kingdom and the United States. At the end of 2015, there were 161,821 CFP professionals worldwide. For more, visitfpsb.org.
# # #
CFP CertificationGlobal excellence in financial planning