FPSB® Investment Specialist
The FPSB® Investment Specialist educational materials and exam are intended for university-level students, investment professionals seeking additional education, and related financial professionals (insurance, tax, etc.) seeking investment and personal financial management knowledge. A required step toward obtaining the CFPCM certification is passing the education and exam for this track. This coursework provides a solid foundation of personal financial management, investment planning and regulatory compliance through real-life scenarios and examples. The FPSB Ltd. material and exam exposes you to a universal curriculum with India-specific tailoring.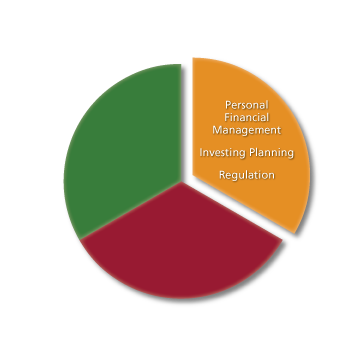 Education Modules
Personal Financial Management
Investment Planning and Asset Management
Regulatory Environment, Law and Compliance
Education Routes
There are three potential routes to fulfill the education requirement and become eligible for the exam:
1) Instructor-Led Education Route

In order to successfully complete this route, enroll with an FPSB Ltd. Authorized Education Provider.
Coursework should generally be completed in 8-12 weeks (depending on hours/course and frequency throughout the week).

2) Individual-Led Education Route

FPSB Ltd. provides educational materials in an online platform, including textbook content, PowerPoint outlines, quizzes, and practice tests that align to the learning objectives and prepare a learner to sit for the exam. Learners must pass the FPSB Ltd. quizzes for each chapter, as well as the post-module tests for each of the three modules to be eligible to successfully complete the education component.

3) Education Exemption Route

Individuals may apply to FPSB Ltd. for exemption from the instructor-led or individual-led education routes. This status is granted upon proof that the individual holds any of the following linked qualifications or certifications. If this waiver is accepted, individuals may bypass the education and prove eligibility to sit for the exam by successfully passing the prequalification exam in the FPSB Ltd. online platform.
Exam Information
This exam tests the competency profile is related to the three education modules
2 hours, 75 multiple choice questions, computer-based test
From the time of enrollment with FPSB Ltd., learners will have three years to complete the education course and successfully pass the exam or will need to re-enroll with FPSB Ltd.
FPSB® Investment Specialist Certification Opportunity
FPSB Ltd. offers individuals to take their commitment a step further by applying to become certified as a FPSB® Investment Specialist. In order to become a CERTIFIED FINANCIAL PLANNER professional, an individual must successfully pass the education and exam, but obtaining the FPSB® Investment Specialist certification is optional. This certification is recognized by FPSB Ltd. and those certified will receive an FPSB Ltd. certification badge to demonstrate to employers, clients and the public their knowledge in this competency area. To become certified, individuals must:
Pass the education and exam
Pass FPSB Ltd.'s Ethics Course
Pay an annual certification fee
Agree to uphold and abide by the FPSB Ltd. Code of Ethics and Professional Responsibility. The Code of Ethics and Professional Responsibility sets forth the requirements for ethical behavior and judgment required. Agreement by applicants is a requirement at the time of application for certification
Pricing information: Coming soon!